Account Based Marketing, or ABM for short, is the ticket to landing the larger deals you've been eyeing up. The idea behind implementing an effective Account Based Marketing strategy is to have a clear picture of exactly which companies (re: accounts) you want to close and a comprehensive, well thought out list of activities you need to execute on in order to capture their attention and engage them.
Sounds simple, right?
Like most marketing activities, productive Account Based Marketing is actually pretty easy, it just requires a high degree of planning before launching the effort.
Read on to see our step-by-step process to launching a crazy effective ABM strategy that will wow your best prospects and have your sales team singing your praises!
Generating Your Ideal Account List
The first step to launching your Account Based Marketing efforts is…you guessed it! Having a list of accounts you want to prospects
If you have a list of accounts you know you want to go after, great, you?re way ahead of the game!
But what if you don?t (like most people)?
The first place to start is by creating an ?ideal customer list?. Ask yourself the following questions to begin generating your list:
Who is your ideal customer?
What industry/industries are they in?
What?s their annual revenue?
What type of product do they sell?
Do they need to have raised a certain amount of funding?
Of course, this list isn't definitive or applicable for every type of business, but it should be a good jumping off point or, at the very least, a great place to start getting the creative juices flowing and formulating some parameters of your own.
Once you have these questions answered, the next question is "Where can I find a comprehensive list of these accounts?"
Finding an industry specific directory or database will be the easiest route. E.g. if you?re looking for software companies, Crunchbase is a great place to source account information from
***Pro Tip: I highly recommend using Crunchbase Pro. For $348, it's hard to find a more comprehensive tool that lets you export tons of unique company data into a csv***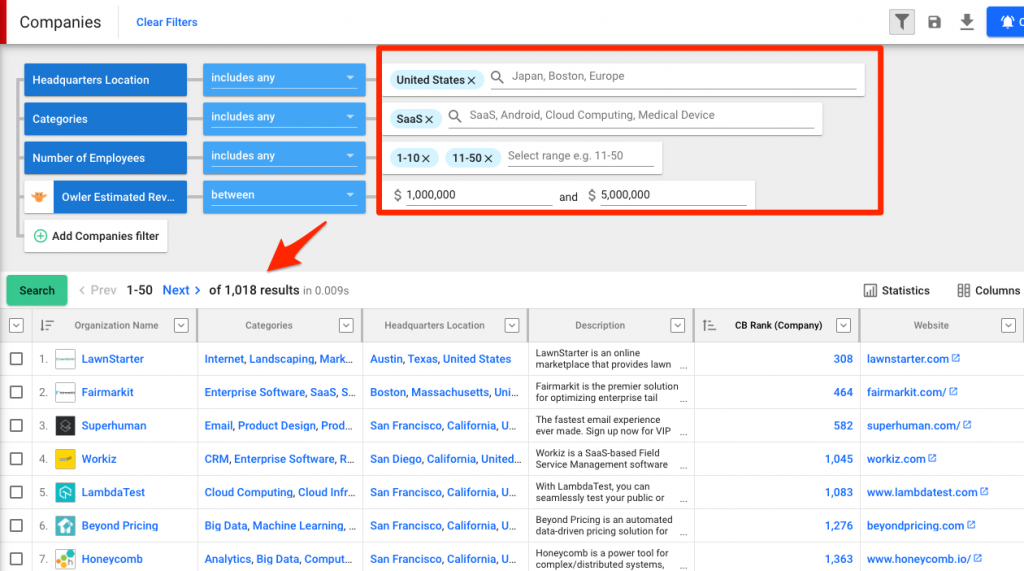 Websites like Capterra, g2crowd and some of the other software review sites could also be very useful. Obviously, a lot will depend on the industry you're in, but the goal is to find a good database that can either easily be scraped or will allow you to export data into a spreadsheet to be parsed further.
How Big Should Your List Be?
Once you've identified a great data source, you'll then need to decide on exactly how many records you need. Or, in other words, how many accounts do you want to start adding to your campaigns.
The answer to that question heavily depends on the strategy you're planning on executing for your ABM campaigns.
The obvious answer is, the more the better, but that may not always be the right answer. The larger your account list is, the more automation tools you'll need to have at your disposal since there needs to be several touch points made to each company in your campaign.
If you don't think you or your team have the bandwidth to tackle everyone possible in your Account Based Marketing efforts, then start smaller and grow the effort accordingly over time.
Our recommendation is to gather, at a very minimum, 1,000 "hit list" accounts to target. These are your "golden goose" accounts; the ones you absolutely have to have because they fit your ideal customer profile perfectly. Also, be sure to keep in mind that in order to use LinkedIn Matched Audiences (e.g. a LinkedIn ad targeting option that allows you to upload a csv of companies you want to exclusively show ads to) you'll need at least 300 account records, although you'll likely want to have much more than that so your campaigns will spend…the smaller the matched audience, the less people you have to target, the slower your campaign will spend.
What do you want to want to share with your newly found account based prospect list?
Now that you've created the perfect account list to target with your campaigns, it's time to start figuring out what content you want to use to promote. You'll also need to spend some time creating an outreach sequence that you and your team can follow.
This is where the real planning comes into play. Collecting the initial data is the easy part, proving to your prospects that you're worthy of their business is the hard part.
Most of the time, when doing Account Based Marketing, you need to start promoting very top level, yet extremely valuable content.
These can be both gated and ungated (e.g. doesn't require the user to fill out a contact form in order to access the content) pieces of content. Think along the lines of checklists, guides, swipe files, etc. The way you should gauge the value of this piece of content is by asking yourself this one fundamental question…"Can the person reading this take the information provided and apply it in their business right now?". If the answer isn't unequivocally "Yes", then you shouldn't be promoting it.
Effective ABM is reliant upon you being able to prove you (and your product or service) are absolutely the right solution for your prospect. The first piece of content you promote is essentially a proving ground. Will they view you as an authority in the space after reading it? They better or all of your following efforts will be futile.
How Should I Distribute My Content?
The short answer to this question is: paid ads and email.
Let's elaborate.
Promote Your Content With Cold Email
Cold email is still one of the most effective strategies for B2B customer acquisition and should definitely be a part of your ABM campaigns. If you choose to go with the ungated content option, then email makes perfect sense.
Sending an email to your ideal prospect(s) at each of the accounts you've included in your list with a link to the content will help you achieve 2 goals.
Making an introduction and providing something beneficial for your prospect instead of just sending a cold email asking for them to schedule a 15-minute call with you (rarely works)
If and when they click on the link to your content, you?re now building a very tailored audience that can be used for retargeting across all of the major ad platforms (Google, Facebook and LinkedIn)
However, even if you produce the greatest piece of content ever, the content needed for successful ABM shouldn?t stop there. The first piece you share can be very comprehensive, touching on multiple strategies/idea/concepts, but the next pieces should be fleshed out articles supporting the original content.
For example, we produced a guide called "The Science of Conversion" (download a copy here) where we detailed 4 of our most successful customer acquisition experiments we've run for both our agency as well as for our SaaS clients.
After downloading the guide, our prospects are then put into an automated email sequence that continues to drip content that supports the information they originally downloaded. The key is to continue providing value indefinitely. Never stop. The goal of this content is really to prove your expertise in a particular area.
Don?t view this as ?giving away? your best stuff, either. Rather, use it as validation that you?re the expert and are worthy of being paid to help your prospects to solve their problems – your prospects are too busy to implement the strategies you send them anyway?they need you, right?!
Promote Your Content With Paid Ads (Particularly, on LinkedIn)
As I mentioned previously, using LinkedIn's Matched Audience targeting option is ideal for running effective Account Based Marketing campaigns.
Since you know that only the companies that are a part of the list you originally created will be seeing your ads, you can rest assured that there will be very little to no wasted ad spend.
When setting up your campaign, be sure to use the ?lead generation? format in order to collect information instead of building a custom landing page.
We?ve tested this to death – lead gen forms ALWAYS win. Here's why:
The form loads insanely fast since it's happening within LinkedIn's native app and/or website instead of directing users to a different url through their browser
The user interface is super clean and the user experience is as convenient as humanly possible

Most of the fields you?ll want to collect from your prospects will already be populated in the form fields since the lead generation forms on LinkedIn take information that is already associated with the users LinkedIn profile, other than phone number (most of the time – unless the person downloading your content has a phone number associated with their LI profile – most don?t)

E.g. our forms regularly collect the following information

First Name
Last Name
Email
Phone
Linkedin profile URL
Company name
Job Title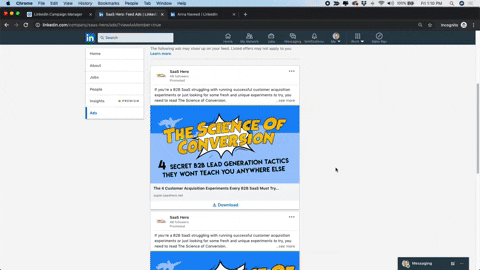 Here is an example of one of our ads running on LinkedIn. Notice how 6 of the 7 form fields are already filled out immediately after the user clicks. This helps our campaigns convert at over 40%
From a user experience standpoint, although the form is 7 fields long, they typically only need to fill in one field (phone) in order to download the content.
Our ads are converting at nearly 42%, mainly in part due to this ad format. It's extremely powerful.

Using LinkedIn lead generation ads to promote downloadable content regularly converts much higher than sending traffic to a dedicated landing page
Can it get any easier?!
Once you start to generate a high volume of prospects downloading and viewing your content, create a "Website Audience" on LinkedIn that targets prospects who have viewed your content. That way, you can continue to retarget them with additional pieces of content you've created that support the information that was a part of the first piece they downloaded.
Don't Just Promote Your Content Digitally
The phrase ?What was once old is new again? has never been more true when it comes to Account Based Marketing and direct mail.
We?re inundated with ads these days – as social media usage rises, so do the amount of ads people see on a daily basis. For some, it can be a bit exhausting.
That?s not to say that ads don?t work, clearly they do (see screenshots above), but it?s getting harder to capture the attention of our prospects and costs are rising. Some may refer to advertising on LinkedIn, Google and Facebook as a "red ocean".
As savvy marketers, we?re always in search of a ?blue ocean? & as we approach 2020, that blue ocean is the mailbox.
Sure, there are still plenty of offers from local businesses being sent via direct mail (e.g. oil changes, dentists, roofers, etc.), but how often does someone trying to sell you software mail a package to your home or business?
More importantly, how often does some trying to sell you software mail a high quality publication with custom graphics and a personalized note to your home or business?
All together now, "1?2?3?NEVER!!"
If all of your competitors are targeting similar accounts with paid ads and cold emails, then it?s time to start thinking outside the box (and inside the mailbox).
Take your best lead magnet (or lead magnets) and have them formatted into a physical publication. Don't skimp on quality either. Ultimately, this physical piece should be viewed through the same lens as any digital campaigns you run…with CAC in mind. If the accounts your prospecting will ultimately pay you $10,000+ on average, then there's nothing wrong with shelling out some money up front to produce something that is super high quality.
Here is an example of the physical version of The Science of Conversion we produced and mail to our best prospects.
Using direct mail for ABM shouldn't be a siloed approach, however. Coupled with a digital campaign (both email and paid ads), direct mail will be much more impactful.
Be sure to layer in an email drip as well as phone calls and LinkedIn profile visits over a predetermined period of time in order to capitalize on every opportunity to make an impact on your ideal prospects, even though sometimes being everywhere isn't enough…
You need to be clever too…
Use Anonymous Visitor Identification Software + Session Recording On Your Website & Landing Pages
As we know, just because someone doesn?t respond to an email or phone call right away, it doesn?t mean that they aren?t interested in working with you or buying your product.
Some B2B sales have extremely long buying cycles and often times 12 or more touch points are required before a deal is secured.
In order to increase your chances of running a successful ABM strategy, consider using some sort of anonymous visitor identification software like Albacross, KickFire or a marketing automation tool like SharpSpring that offers a feature like that out of the box.
Using a marketing automation platform like SharpSpring or HubSpot is preferred since it will allow you to not only get alerted when one of your key accounts visits your website, but you can also implement a logic that sends an automated email to your prospect based on when they visit your site and what content they?re looking at making for a highly engaging customer experience. That way, you?ll never miss an opportunity to connect with one of your most desired accounts.
Using session recording (I personally love Inspectlet) is also key to making sure you capitalize on every opportunity. Session recording software like Inspectlet allows you to watch live user behavior on your website and landing pages.
Instead of relying solely on tools like Google Analytics, which can be very "black and white", session recording provides a far greater level of detail.
If you can see when your ideal accounts are visiting your site, then you should also have a super clear picture of exactly what they did while visiting your site, too.
What pages did they look at? Did they actually read the content or just skim through it? Did they spend time looking at your bio on the About Us page? What insights can you gather from watching their behavior on your site that you can translate into a super tailored email that will be sure to capture their attention?
The key here is that with Account Based Marketing you have to be very proactive.
ABM campaigns aren't like marketing consumer based products where everyone is treated the same; it?s quite the opposite. Each account and prospect must be coddled and treated with care.
Your messages need to be precise and relevant and timely.
These prospects aren?t responding to a flash sale or a 20% off coupon. You?re running ABM campaigns because you really want their business because it?s super valuable to your company. You can?t afford not to earn their business.
Successful Account Based Marketing requires a lot of documentation, a lot of finesse and most importantly, persistence.
Happy hunting.