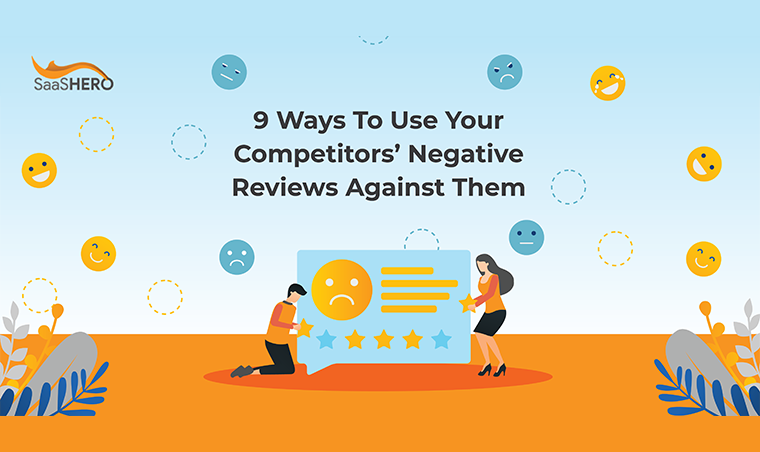 As a business owner, your companys success doesnt just depend on what you do well or how amazing your product is. Its also how you deal with things that go wrong and how you respond to unhappy customers.
Did you know that more than 90% of unhappy customers wont do business with you again?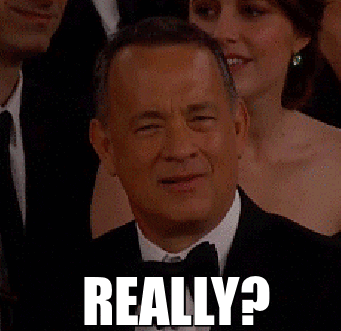 Because of that, its wise to invest time and resources to monitor your brands reputation and customer loyalty. That means routinely tackling things like responding to customers reviews, addressing product issues or concerns, and trying to make things right with unhappy customers.
But what about your competitors? Can you use what they get wrong to your advantage and pull their unhappy 90% over to you?
Absolutely!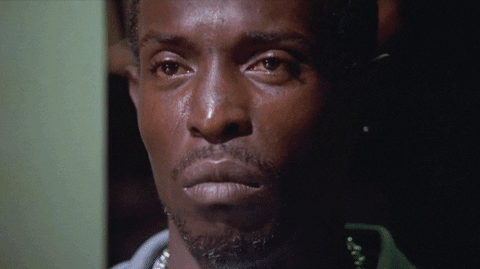 According to a customer experience report from Oracle, 89% of consumers began doing business with a competitor following a poor customer experience. You can use this to your advantage. Data mining your competitors will help you uncover hidden gems to propel your company forward, turning your competitors losses into gains for your business.
Here are 9 ways to hack competitors negative feedback into positive growth for your company:
1. Identify competitors
If you havent already completed a market analysis, now is the time. Not sure where to start? Begin with a Google search. Search for your company name, your product name, or for similar products. See who comes up. You can also use a tool like similarweb.com, which allows you to enter your own URL to get access to information about competitors and similar sites. Other tools like SEMrush and Spyfu use keyword analysis to give you insight into your competitors best paid and organic search tactics. Ubersuggest is also a great free tool available for competitive analysis. Make a list.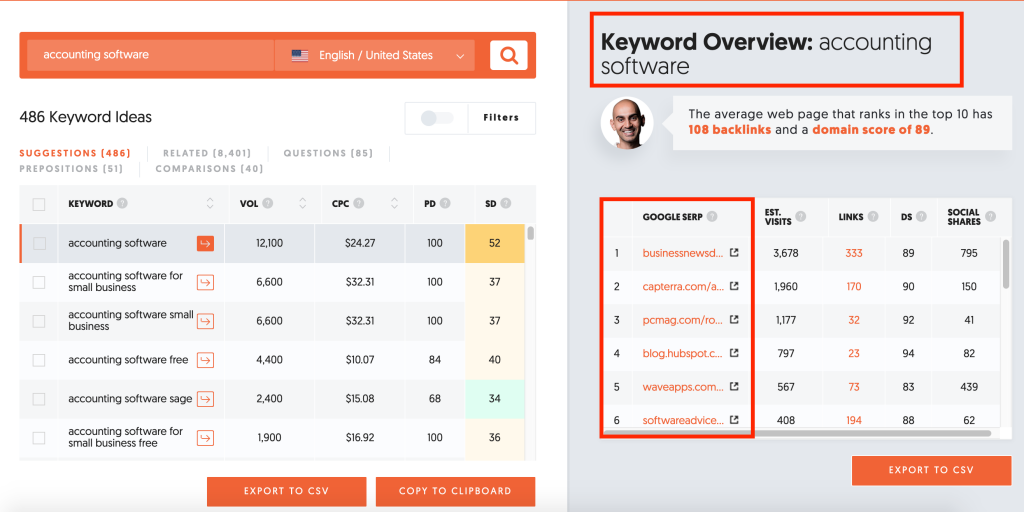 Here's an example of how to find competitors in the Accounting Software space using Ubersuggest
2. Determine evaluation parameters
After identifying your competitors, create a list of key topics you want to explore with a competitive analysis. Some questions you may want to ask when evaluating your competitors:
What do customers like most about your competitors?
What are the prevalent or recurring complaints customers have about your competitors?
Has your competitor had a public crisis or disruption that negatively affected customer loyalty or brand reputation?
How do your competitors gain customer loyalty?
Are there industry service gaps that need filled?
Are there product limitations or performance issues?
3. Find patterns
Almost 90% of consumers say they read business reviews and as many as 40% say seeing negative reviews stops them from doing business with a company, so begin with review sites and directories like Google, Yelp, Angies List, Capterra, TrustPilot, G2 Crowd, or GetApp.
Wade through your competitors reviews. What are the most common issues? Are your competitors responsive to positive and negative feedback? Make note of negative reviews, with specific focus on 1 and 2 star ratings.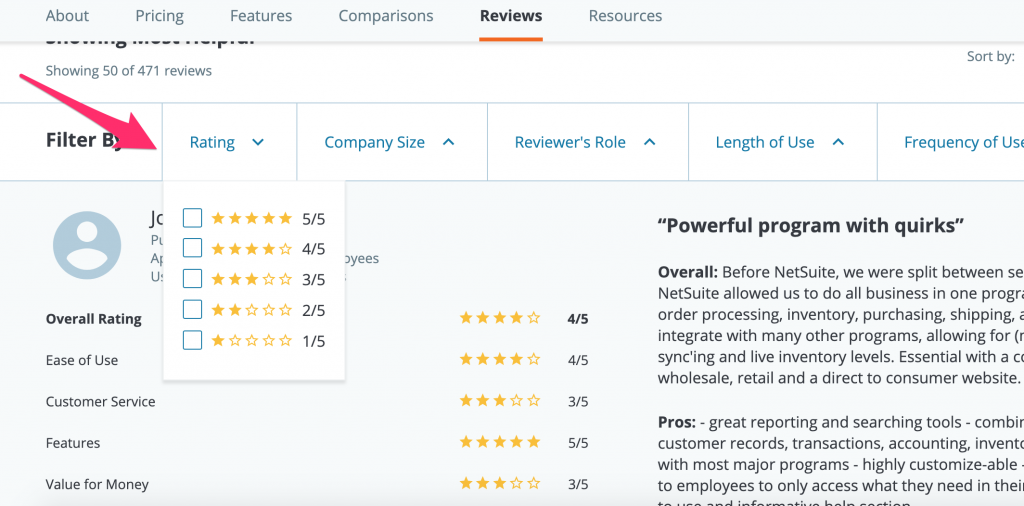 You can use review sites like Capterra to look specifically at 1 and 2 star reviews on your competitors products to find out exactly what their customers have the biggest issues with
Scour competitors social media sites. Are customers engaging with their posts? Are they leaving reviews and feedback? What issues are being brought up? Are they being addressed? You can even monitor hashtags and mentions with social media listening tools like HootSuite, SproutSocial, and BuzzSumo.
Read competitors websites and blogs. Are customers responding to their content? What types of calls-to-action are your competitors using? Are customers sharing pain points or concerns? Is the company offering solutions and responses?
Use search engines to discover more about your competitors and dig up more reviews, press coverage, and customer feedback. Start broadly, for example, [Industry] + Reviews then get more specific with [Specific Company or Product Name] + Reviews. You can even set up Google alerts so you get regular notifications about the competitors youre following.
Talk to your customers. Did they try or use a similar product before connecting with you? Were there other companies or products they considered? Why? What was appealing?
Dont forget employment review sites like Glassdoor, Indeed or Comparably. While these sites have a mix of positive and negative employee engagement, they can be a gold mine for customer intel where unhappy employees share information about breakdowns in company policies or products. Proceed with some trepidation, but take note of some of the insider information you may find.
After completing your competitive analysis, youll have a better understanding of your competitors fail points and successes, so now what do you do with your intel?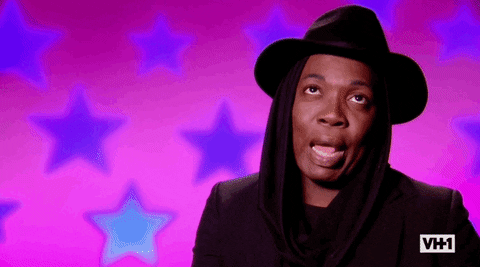 4. Rank issues you discovered in order of importance
Build a spreadsheet of the key issues you uncovered. Compare your competitors results against your own business goals and objectives. Rank them in order of importance, then select the top three to five for your focus.
5. Determine your value proposition
Evaluate your own products and services. What do you do better than your competitors? What gaps can your company fill where your competitors fall short? How can you address the issues their customers brought up in their negative reviews and feedback?
6. Use your competitive advantages to create targeted content
Refer back to your spreadsheet of key issues you uncovered from your competitive analysis. Now is the time to use that to your advantage! You can create content that targets these issues. How about a cold email campaign that addresses the pain points your product solves?
Create paid ads using that keyword research you did in step 1. Direct those ads to landing pages that specifically offers pain-point solutions, gap filling, and highlights what your product/company does best. Remember, if you know consumers users have specific issues with your competitors, you can hand-deliver them a solution. Take advantage of your competitors negative experiences by providing a better solution. About 55% will remain loyal to brands where they can easily get the information or help they need.
7. Connect with your competitors unhappy customers
Its just bad form to publicly comment on your competitors negative reviews or unhappy social media comments. Your intent could be misinterpreted and that may negatively affect your reputation instead of propelling you forward.
Instead, do research to find out more information about those customers and connect with them privately.
See a negative comment on social? Send a private message. Can you connect a name and email to a poor review? Send a message and offer a solution. Open the door to communication and show your company is ready to quickly and efficiently respond to their needs.
8. Target similar consumers with your solution
In doing your research, you can discover patterns not just in what your competitors are doing, but who is using their products. This is great market intel! Put it to use. Build targeted campaigns to consumers who match similar criteria. Understand their pain points and offer solutions.
9. Dont make the same mistakes as your competitors
Half of unhappy customers will give a brand a week to respond then they will stop doing business with them.
Unfortunately for many businesses, 79% of consumers who complained said their complaints were ignored. Worse, 54% of customers will tell five or more people about their bad customer service experiences, meaning additional loss opportunities for customer growth and retention.
Dont make the same mistakes as your competitors. Stay on top of all of your online reviews, social media engagements, blog post comments, and customer feedback loops. You may want to consider using reputation monitoring software like Cision, Yext, or BirdEye.
With thoughtful competitive analysis, you can make the most of your competitors blunders and put them to work for your business.