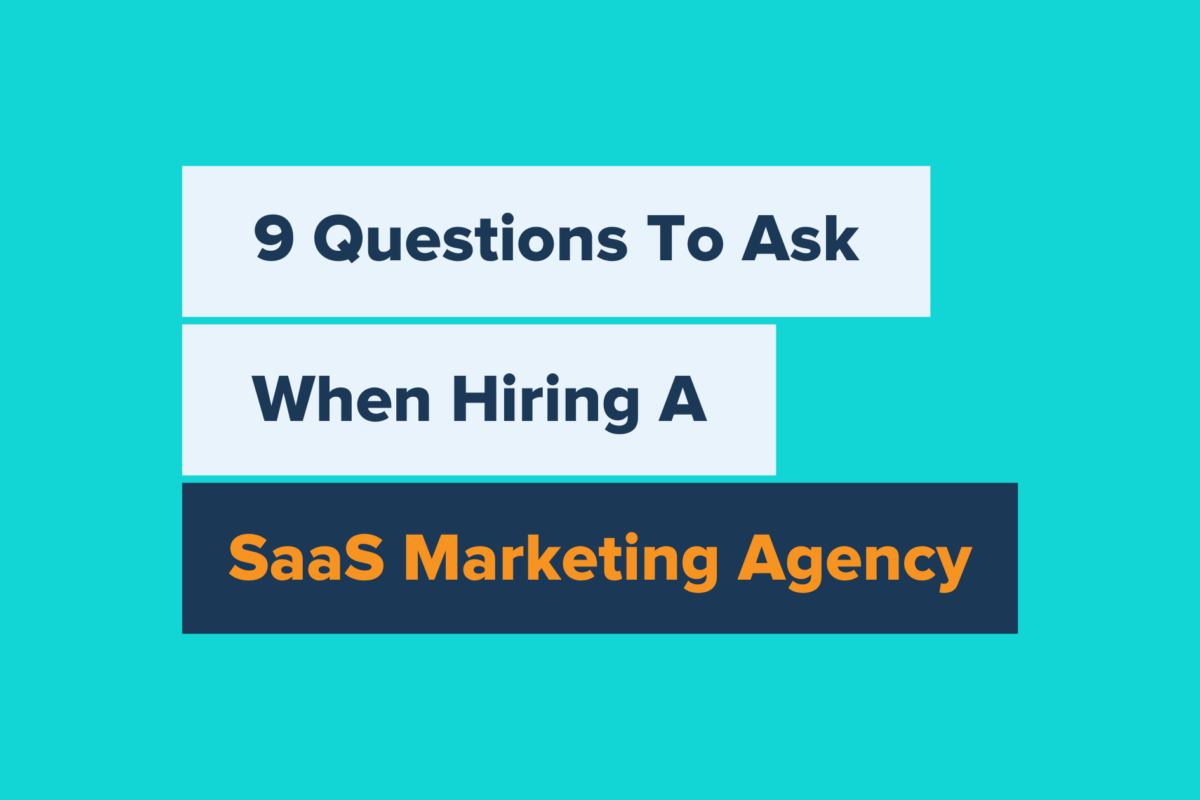 How to Hire a Marketing Agency for SaaS
As more and more SaaS products are introduced to the market, it's only natural that the number of marketing agencies working exclusively with SaaS products continues to rise; and that's exactly what's happening.
However, not every B2B SaaS marketing agency is created equal. Due to an extremely low barrier of entry and virtually zero startup costs, anyone can spin up a website and tout themselves as a "marketing agency for SaaS".
Unfortunately, it's very easy for new, inexperienced agencies to appear much more qualified than they actually are. Much like hiring a new team member, more is wasted by mis-hires than by being patient and selecting an agency that's the right fit for your B2B SaaS product.
This article will detail the right things any B2B SaaS company that is looking to hire a marketing agency should think about and the appropriate questions to ask before making a decision.
1. What is their reputation like?
The first stop for anyone evaluating a marketing agency for SaaS to hire should be based on reputation.
As a service-based business, getting good reviews is basically impossible without delivering high-quality work and results.
Rarely will a business leader leave a detailed, 5-star review for an agency out of the kindness of their heart if the results weren't exceptional.
Here's a more detailed breakdown of how your reputation investigation (alliteration!) should be handled:


Does the SaaS marketing agency have reviews? If so, where were they written?
Websites like G2 and Clutch allow reviewers to leave extremely detailed and comprehensive reviews on the agency they hired.
Clutch even goes as far as to actually conduct personal interviews with reviewers in order to get the entire story and explain to prospective buyers specifically what the agency worked on, transparency, communication style,, project costs, and more.
When making the critical decision on which SaaS marketing agency to hire, don't only look at the star rating, but read the full details of the review.
Does the agency have case studies?
Outside of great reviews, the SaaS marketing agency you're considering hiring should be able to go into detail on how they actually performed for their clients.
Even if the outcomes are relatively high-level, it's OK. You should be focusing on the things that really matter for SaaS products, such as:
Cost per lead

Cost per acquisition

Return On Ad Spend (ROAS)

MRR/ARR

Traffic increases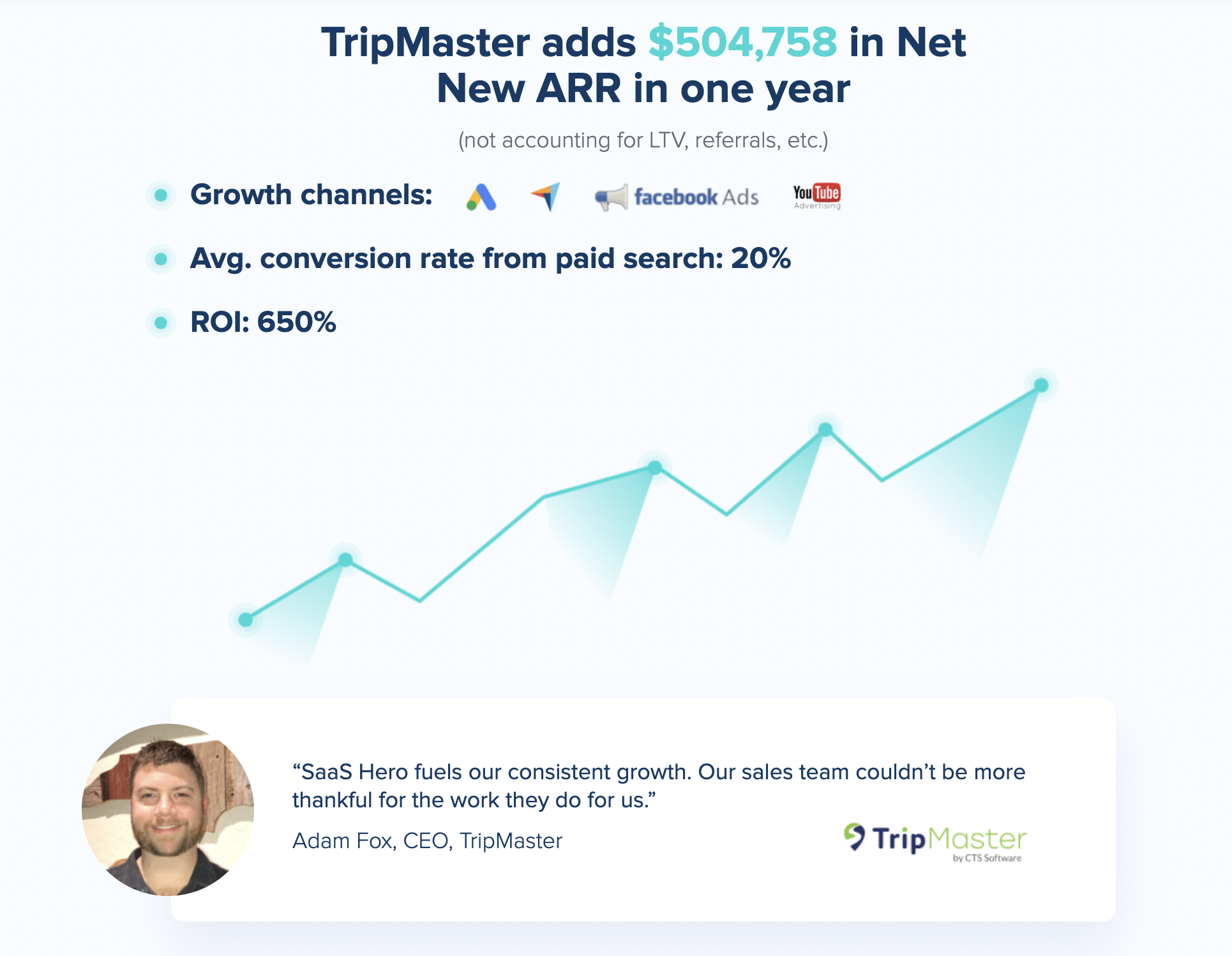 Here is an example of one of SaaS Hero's case studies. See more of our results here.
The outcomes of the agency's previous engagements with companies like yours are critical.
Does the agency have references they can share?
Client references are a huge feather in the cap of any SaaS marketing agency in contention for your business.
Not only does it show that the agency has clients (that are your peers) experiencing success working with them, but it also shows they are able to establish lasting personal relationships with their clients.
Truly enjoying working with an agency and really liking their team members is critical to success, similar to the way you want to have great relationships with your full-time team members.
2. What is their client retention like?
All businesses experience churn, and a B2B SaaS marketing agency is no different. However, it's definitely cause for concern if an agency has really high churn.
Ask the agency what the length of their average client engagement is.
They should know this off-hand (it's an extremely important metric for agencies) or at a minimum, be able to quickly generate a very close estimate for you.
If the average engagement is just a couple of months, that's a red flag and could be an indicator that the agency struggles to quickly generate enough positive results to keep their clients happy.
However, when it comes to client churn, there are other factors at play than just hitting a home run right out of the gate.
Expectation setting is key. Oftentimes, immature agencies will overpromise and underdeliver, which is the kiss of death for any retainer-based relationship.
More experienced SaaS marketing agencies will create realistic timelines and expectations around results and campaign performance for their clients in order to:
a) have adequate time to run enough experiments to find winning recipes for success
b) make sure their clients (and all stakeholders involved in the business – VC's, board members, etc.) know when they can start to expect to see some ROI from their marketing efforts.
Clients leave agencies for a variety of reasons, but if they are regularly fleeing after the initial term of their agreement, that's a cause for concern.
3. How experienced is the agency and its team?
Gauging experience can be a tricky factor when it comes to evaluating a marketing agency for SaaS to work with.
The two ways experience should be considered are:
Factor in how long the agency has been in business and

How much experience the members of the team working on your account have in various marketing activities (or in your specific niche)
Ideally, the agency you hire should have a solid blend of both.
Just because an agency is new-ish, doesn't mean that they aren't capable of delivering amazing results.
Take a look at when the business launched, but also look at each individual team member.
If you notice that both the business and the people working in it are relatively green, it may be a good idea to look elsewhere in your search for the ideal SaaS marketing agency.
This leads us to our next determining factor, which is…
4. What is the makeup of the team?
A business is only as good as the people who run it and that couldn't be more true when it comes to SaaS marketing agencies.
Service-based businesses need highly skilled people at the helm to ensure a great customer experience.
Unlike a SaaS product that can be improved with upgraded features and integrations, a SaaS marketing agency is successful due to building a team full of great marketing minds.
Here are some key takeaways to consider when evaluating the team of the agency you are considering hiring:
How big is the team?
The answer to this question should be directly proportional to client roster size. For example, if the team size is 3 and the client roster is 30, that is a massive red flag.
Such a small team for a SaaS marketing agency with a roster of that size surely will lead to lots of mistakes and ultimately, a very small amount of time dedicated to each client.
For full-service performance marketing agencies, an Account Manager (the team member solely responsible for client communication and strategy) should have no more than 8-10 clients at a maximum. Using the example above, if the team size is only 3, assuming one person is the Account Manager and the other team members perform other essential tasks, then that means just one person is responsible for managing relationships with 30 clients.
There just isn't enough time in the day to ensure enough attention is paid to each account.
A big portion of an Account Manager's job at a marketing agency for SaaS is thinking. Looking at performance, competitors, etc., and ideating…figuring out new, creative ways to move the needle for their clients while keeping KPIs in mind.
What does their project management system look like?
Ask the agency which project management system they use as well as any other questions you can think of related to how they handle their own growth.
Typically, clients are solely focused on how the agency will help them grow, justifiably so.
However, if the agency is rapidly growing without a repeatable and scalable way to handle its workflow, it will be the clients who suffer the most.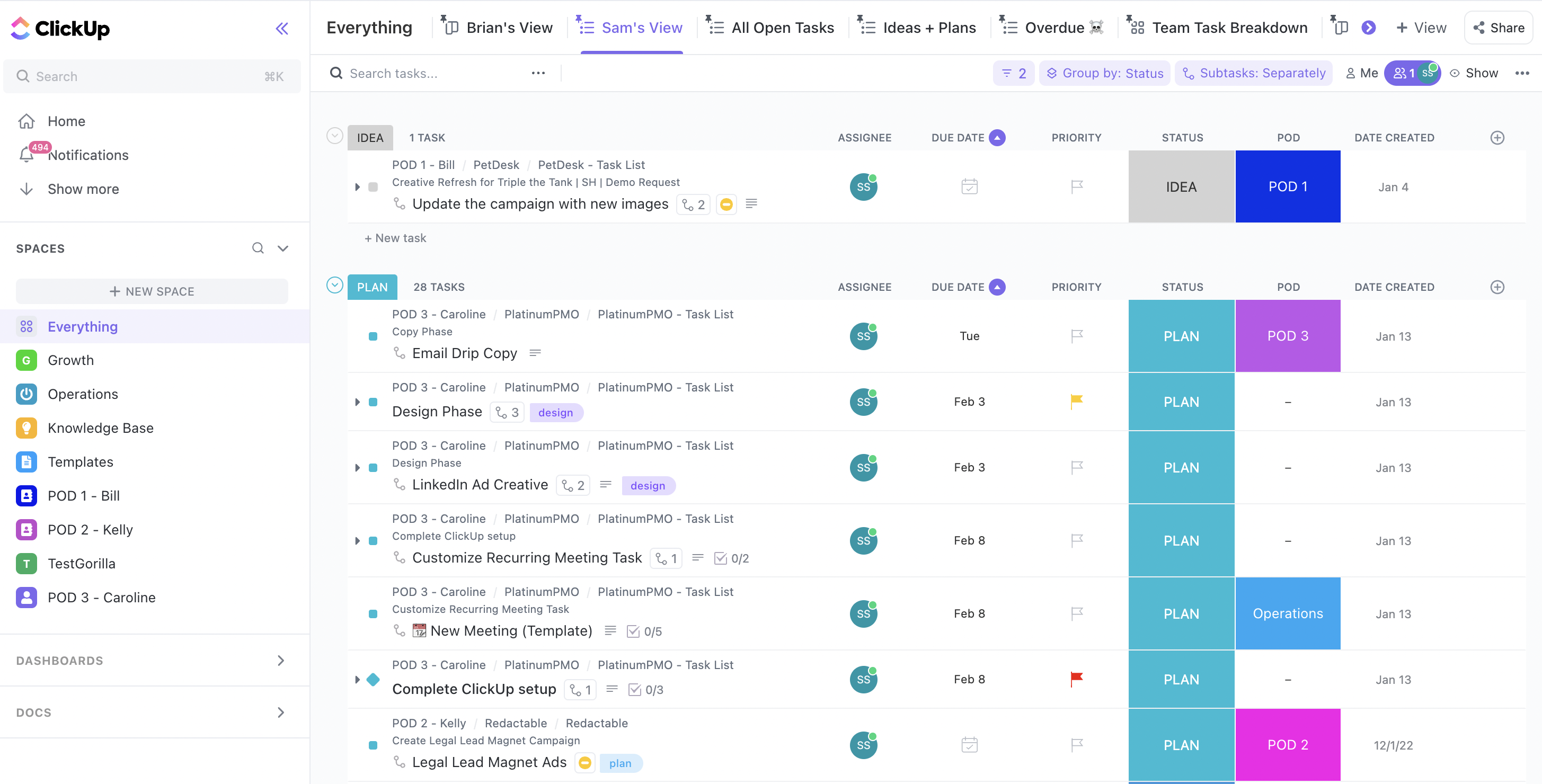 SaaS Hero uses ClickUp for project management. Not only can we see exactly who on the team needs to do what for which client and when but we also have custom templates created for most tasks so existing and new team members can quickly get up-to-speed on our internal processes and deliver high-quality work on time for our clients.
Are there team members dedicated solely to your account?
Having consistency on the team working on your account is a key component of a successful relationship with a SaaS marketing agency.
The ideal team makeup usually looks something similar to this:
Account Manager:

The team leader in charge of formulating strategy, communications, leading calls, and reporting on campaign performance
Campaign Manager:

The person responsible for executing campaigns across ad platforms and optimizing performance
Project Manager: The person working internally who is responsible for ensuring tasks are being completed on time and properly

Marketing Operations Manager:

The person responsible for setting up conversion tracking, attribution, workflows, etc. This person is typically working on the more technical, behind-the-scenes tasks that ensure a smooth experience for both the client and their prospects

Director of Operations:

The brains behind the internal project workflow who is responsible for establishing systems and processes that streamline production
Director of Paid Media/Campaign Management:

The person who oversees all campaign management activities and ensures KPI's are clear, are being met, and are being clearly reported on
Additional critical team members that are often outsourced are:
Copywriter:

The person responsible for all of the words necessary to effectively run campaigns (ad copy, landing page copy, email copy, etc.)
Designer:

The person responsible for creating all creative assets needed to execute the marketing strategy determined by the Account Manager (ads, landing page graphics, email templates, etc.)
In short, you don't want to hire a SaaS marketing agency that has too few people doing too many tasks.
5. What specific services do you offer?
Being clear and intentional about exactly what services you need from the SaaS marketing agency you plan to hire is extremely important to make sure your relationship starts off on the right foot.
On the same token, you should only be evaluating agencies that are experts in the exact services you need.
Some agencies focus only on paid search.
Some agencies focus solely on paid social.
Some agencies focus solely on conversion rate optimization.
Create a list of the tasks you need to contract out and only spend your time speaking with agencies who are proficient in them.
In some cases, you may find yourself in a situation where working with more than one agency makes the most sense.
If generating search traffic is a high priority and you happen to find one agency that specializes in SEO and one agency that specializes in PPC, negotiate your terms favorably and bring them together to work in a team-like environment.
Expanding the depth of knowledge available to you by way of having more than one SaaS marketing agency assisting with your growth could prove to be quite beneficial.
6. How do you communicate with clients?
Having an agreed-upon communication cadence is key to establishing a great relationship with your SaaS marketing agency.
Typically, 30-60 minute Zoom calls on a weekly basis are standard, particularly for new client relationships.
That time should be used to review marketing plan objectives, campaign performance, strategy, etc.
However, be sure that your agency is sending a meeting agenda prior to the call taking place. The last thing you want is to get on a call where no one knows what to talk about.
These days, having some sort of messaging app to quickly chat in addition to weekly meetings is preferred.
At SaaS Hero, we set up Slack connections for our clients that also use Slack for internal communication.
Having the ability to quickly ask a question, share an update, or send an item for approval is ideal for getting things done more efficiently and achieving results faster.
7. How large is your active client roster?
We already touched on the importance of having the appropriate team member-to-client ratio, but now we'll dive into why having a larger client roster is advantageous as well.
In short, it's about shared knowledge.
The larger the roster, the more experiments, and campaigns are run by the agency at a given time.
The more campaigns and experiments run, the more failures and mistakes are made.
Making mistakes and running some unsuccessful campaigns is a normal part of any ongoing marketing initiative. However, SaaS marketing agencies that have larger client rosters (and adequate team sizes and low client churn) will have made many of those mistakes and run those campaigns that failed before you get to them.
That way, you have the benefit of achieving results faster and at a lower cost.
If the agency has 25 or more clients and has been operating for several years, then you should feel pretty confident that they have enough experience and existing client data to run successful campaigns fairly quickly.
8. Who fits your Ideal Customer Profile (ICP)?
This is one of the most important questions to ask early on in your SaaS marketing agency search.
When agencies try to work with every client under the sun just to get paid, results are usually less than stellar.
More experienced agencies know exactly who they can help and who to stay away from and that not all clients are ideal for their business model.
More often than not, agencies who take on projects from clients that fall outside of their ICP experience high levels of churn…and that doesn't benefit anyone.
Software as a Service is a unique vertical in that it's specific, but not at the same time.
For example, some B2B SaaS products have enterprise-level pricing with extremely niche audiences and require a great deal of hand-holding in order to close a deal, while others are strictly focused on a low-touch, free-to-paid model to very large audiences without requiring any human interaction in order to convert free trial users to paying customers.
Also, unlike many other verticals, SaaS companies are often-times actively raising financing rounds in order to continue operating.
There is a considerable difference between an early-stage, pre-seed SaaS company that is being bootstrapped by the founders and a software company that has secured Series B financing from institutional investors and has a headcount of 200+ employees.
Consider this example, there are two software companies;
Company A sells its product for $100,000/year by way of one-on-one product demos and has 2 customers, and

Company B that sells its product for an average of $29/month strictly through a 7-day free trial and has 20,000 customers.



From a surface level, both of these companies fall into the bucket of "SaaS," but obviously they are in completely different stages of the business lifecycle and have completely different sets of needs (and most likely, wants).
Seeing that there are so many different types of SaaS companies, it's clear that not every SaaS marketing agency is equipped to work with every software product.
Typically, earlier-stage software companies are looking for an agency to completely own strategy as well as execution and rarely have any internal marketing resources to leverage.
Smaller B2B SaaS companies who haven't yet perfected their business/pricing model and don't have large budgets to work with need an agency partner that can help them run more pure marketing tests to validate a channel or two.
Think more about "growth hacking" type of activities…cold emails, etc.
Larger, more established SaaS companies are likely in need of an agency partner for execution that can work alongside their internal marketing team members.
For example, SaaS Hero best serves mid-market B2B SaaS companies with ARR ranging from $2M – $30M with a proven sales process and that don't have full-time team members with experience in running digital marketing campaigns.
A good place to check to find an agency that meets your needs is Clutch.
Not only do they provide extremely thorough and detailed reviews from real clients, but they also share information on the services the agency provides and the types of businesses they work with.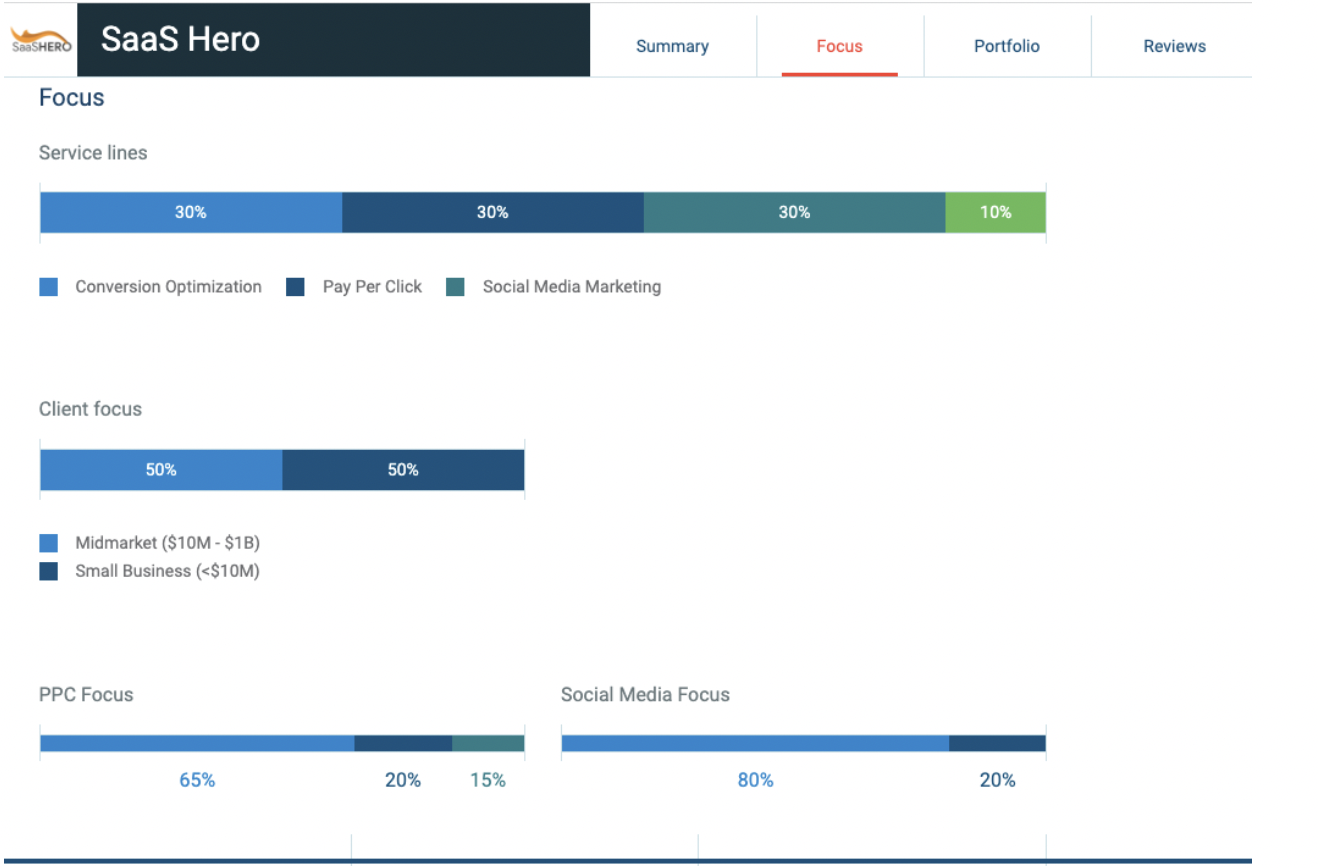 Here is a snapshot from our Clutch profile that shows some high-level details on the services we offer and for whom.
9. What is the typical structure of your engagements?
There are several things that need to go into a formal agreement with your marketing agency, but there are 3, specifically you should really be focusing on. They are, in no particular order of importance, the following:
Billing structure

Length of contract

Scope of work
Billing structure
Perhaps the most common billing structure for SaaS marketing agencies is some sort of retainer-based engagement.
Retainer-based contracts can have several benefits for both the agency and the client.
First, it provides a predictable and consistent revenue stream for the agency. Retainer-based contracts involve a set fee paid on a regular basis, allowing the agency to plan and budget for its resources and staffing needs.
Second, it allows for a more strategic approach to marketing. Since retainer-based contracts provide the agency with a more predictable commitment from the client, it then allows for a more comprehensive and integrated marketing strategy. This can lead to more effective and efficient marketing efforts.
In some cases, SaaS marketing agencies will offer a percentage of spend model where the client pays them based on how much budget they've spent in a given month.
There are serious drawbacks to this approach for both sides.
For clients, it gives the agency a clear incentive to attempt to spend as much money as possible, regardless of performance.
If you do opt to work with an agency using this model, make sure there are very clear limits set as to how much can be spent on a monthly basis.
For agencies, the main drawback is that this model might make it nearly impossible to generate enough revenue to properly staff an adequate team.
For example, if a client has a PPC budget of $5,000 and the agency charges a rate of 15% of spend as their fee, the agency is only making $750/month on that account. It would be nearly impossible to employ a skilled team at that rate and asking clients to spend double or triple the amount they're comfortable with is a serious uphill battle.
Hourly rates are difficult for similar reasons.
Sometimes, projects take much longer than expected.
In the world of paid search and paid social, campaign optimization can be a lengthy process and there are typically many pivots and iterations being made which can change project scope forcing the agency to essentially "restart".
With a retainer-based agreement, there aren't any additional fees to incur.
However, with an hourly rate, you're likely wasting quite a bit of money when such situations arise.
Retainers are you best bet to provide a consistent monthly expense, a more strategic approach, a deeper understanding of the client's business and audience, and a more positive and trustful working relationship.
Length of contract
The length of the contract or the term that both parties are agreeing to can be a bit tricky to get right.
Some SaaS marketing agencies will look for long contracts between 6-12 months, the latter of which seems unreasonable, especially for a first-time agreement.
While it may seem advantageous to try and secure a month-to-month contract, there is actually a lot of risks involved.
For B2B SaaS companies who really intend to make a commitment to digital marketing, they must then also make a commitment to the agency they want to work with.
When boiled down to its simplest form, marketing is just a series of experiments. And when dealing with clients that have little to no previous account data to work from, it will likely take more than 1 or 2 months to find winning audiences, keywords, landing page experiences, etc.
For these reasons, we typically begin all new engagements with a 4 month term.
Over the years, we've learned that 4 months is a sweet spot when it comes to first-time agreements. In most cases, it gives us just enough time to achieve the following:
Predictable results from marketing spend on various channels

Reaching a point where we believe we can begin to scale campaigns

Establish a great working relationship with our client
At the completion of the term, moving to month-to-month is ideal but of course, it makes sense to leave the door open for renegotiation based on performance/relationship.
If you've found an agency that you like, try to lock down a contract in the 4-month range that renews on a month-to-month basis.
Scope of work
It should go without saying that the agency should provide a clear SOW in the agreement, but unfortunately, that isn't always the case.
Pay close attention to the language in the agreement and look for things that can be easily up to interpretation and make sure they are made more concrete.
For example, if the agreement states something to the effect of "Agency will design custom ads on behalf of the Client", make sure to ask exactly how many ads they really are ready to commit to.
Is it 5 ads or 500 ads? Exactly how many landing pages are they designing for you? You get the point.
A clear scope that everyone agrees to in writing helps avoid awkward conversations down the line.
It also helps the agency to avoid something referred to as "scope creep". Agencies need to protect themselves from doing too many activities that weren't agreed upon initially.
Oftentimes, clients will ask their agency partner to "just this once" do something out of scope (e.g. make a new landing page, which can be a very arduous project to tackle, let alone for free) that is both time-consuming and costly to the agency.
Having your agency throw you a bone here and there in good faith is no big deal, but in the event, such requests become too consistent, the agency has the SOW in the agreement to lean on.
Ultimately, having a clear scope of work will protect everyone and ensure that the relationship starts off on the right foot.
Conclusion
Hiring a marketing agency for SaaS can be a big deal. Locking down the right partner for the right price at the right terms can prove to be a tremendous asset to your business.
The right agency will act as an extension of your team for a more affordable rate than you would pay to hire the same staff full-time with a fraction of the responsibility that goes along with hiring full-time employees.
If you're currently working with an agency and you don't think the results are as good as they could/should be, SaaS Hero may be the right fit for you.
Performance marketing for B2B SaaS and enterprise technology companies is all we do. Let us audit your existing ad accounts, completely free, and we guarantee you'll walk away with insights you can act on immediately to improve your campaigns; even if you decide not to hire us.
Request a free account audit here.